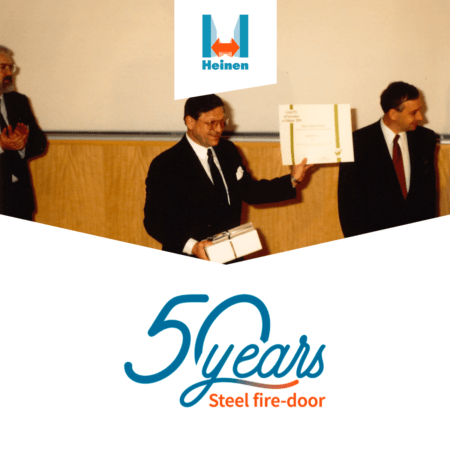 Hans-Dieter Heinen, who grew up in Malmedy speaking German at home and learning French at school, had planned to pursue a career outside his home town by studying at university. However, after graduating in physics from the University of Liege in 1963, he joined a research team at ACEC  (Ateliers de Construction électrique de Charleroi) on the advice of a professor.
After his military service, Hans-Dieter Heinen was given the choice between continuing research, perhaps in the United States, or trying to create something himself. He chose the second option and decided to take over his family's metalworking business, of which he became the majority shareholder. His aim was to find a product that he could produce in his workshop, and so he conceived the idea of making fire doors out of steel, whereas fire doors were usually made of wood.
Hans-Dieter Heinen undertook research and studied insulating products. After four years of work, the first door was ready. The results were remarkable and the personalities invited by Hans-Dieter Heinen for the tests were convinced.
Hans-Dieter Heinen then succeeded in developing his company into the Belgian market leader in fire doors because of his ability to invent a good product, to meet the market demand and to sell it. Over the years, the company has developed other products such as fire-resistant ceramics, protective systems for air vents and cable ducts, among others.
The research policy carried out by Heinen, on the initiative of its head engineer, was rewarded in 1989 by the Grand Prix for technological innovation of the Walloon Region, SME category, for a modular system of anti-aggression doors. This recognition rewards 20 years of work and the company's values.
Today, Heinen employs 45 people and has an annual turnover of more than 10 million euros. Although Hans-Dieter Heinen sold his company in 2012, his values are still present in the minds of his employees.