Heinen develops fire resistant doors for a wide range of fields. Many of our products are tested to European standards based on the ISO 834 standard temperature/time curve which takes into account the rising temperature of a "standard" fire in order to define fire resistance (e.g. EI1 30, EI1 60, EI1 120…).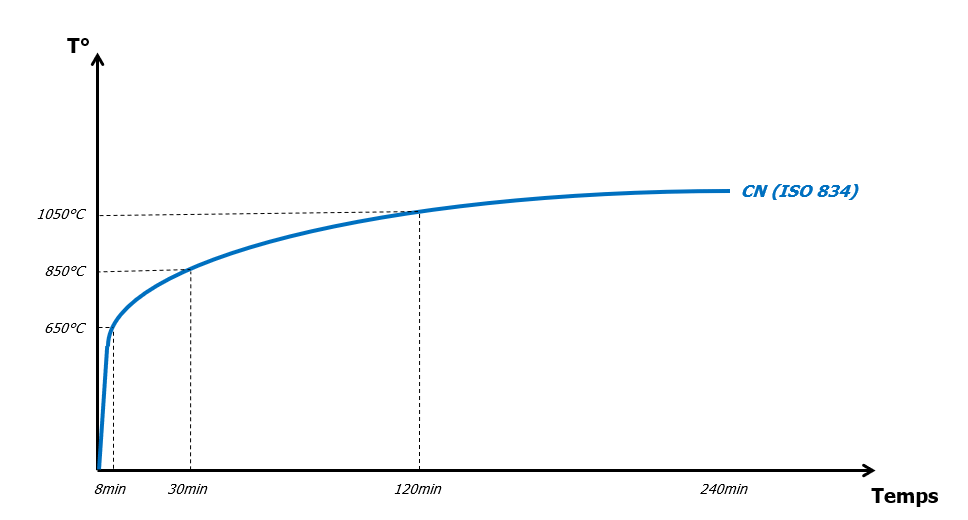 However, some doors need resistance for more specific situations where tests using the ISO 834 standard curve are not sufficient. In particular this is the case for tunnel doors where the requirements have been strengthened in France since the early 2000s. In other countries, requirements have also been stepped up to guarantee maximum resistance in specific situations where the temperature of a fire climbs far more quickly.
The "modified hydrocarbon" (HCM) curve
These specific situations include, for example, a fire in a tunnel. In such cases, the ISO 834 standard curve does not adequately represent the severity of a fire: because of the confinement and the presence of hydrocarbons in significant quantities (for example, in a tank truck), the fire can reach a very high temperature far more quickly.
This HCM curve has primarily been used in France since the Mont Blanc tunnel disaster. In this country with its numerous tunnels, it is more critical than the standard curve to ensure that various components are adequately resistant in the event of a fire.
To deal with such a situation, the technologies used in tunnels must be capable of resisting for a defined time, but no longer using the ISO 834 curve, but instead the HCM curve (modified hydrocarbon) where the temperature reaches 1200 °C in just a few minutes.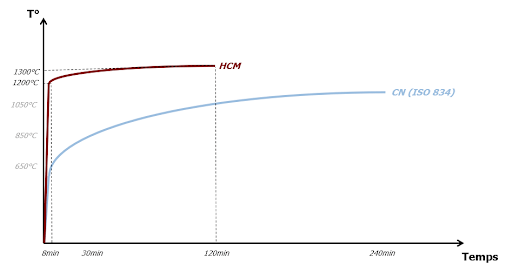 The RWS curve
France is not the only country to use a special temperature curve for tunnel safety. This is also the case in the Netherlands, which has special standards based on the RWS curve (named after the "Rijkswaterstaat", the ministry of public works, which is responsible for the management of motorways and thus the country's many tunnels).
This RWS curve is very close to the French version and a recent French circular has in fact recognised it as equivalent. In France, products tested against the RWS curve are considered as validated for the HCM curve.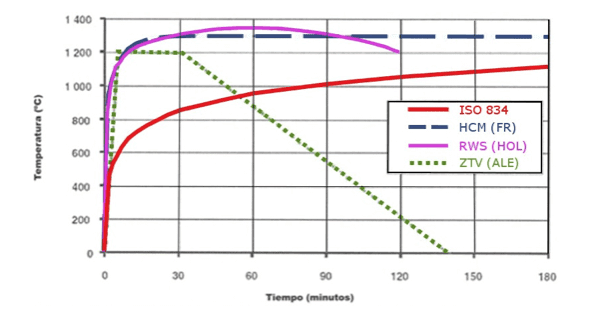 Standard load curve/HCM curve/RWS curve
HCM 120 | Resistance of fire doors
Our fire resistant doors for tunnels can thus now be produced to measure in single or double format with maximum resistance performance. Their certification means that they can ensure that any tunnel, public or private, has safety doors. There are several levels of protection:
| Level | Fire resistance on the standard curve* | Fire resistance on the HCM curve* |
| --- | --- | --- |
| N1 | 120 minutes | – |
| N2 | 120 minutes | 120 minutes |
| N3 | 240 minutes | 120 minutes |
* Successful criteria E (fire resistance) and I2 (insulation)
One of our tunnel doors
Like every Heinen product, they are also available with additional performance features (acoustic, burglary resistance, etc.) and are thus perfectly suitable for tunnels and the most secure zones. They are also available in sizes that can be adapted to your needs and with multiple accessories. They can, for example, be combined easily with special accessories (handle-based anti-panic mechanism or anti-panic bar) to meet European standards EN 179 or EN 1125.
If you need to deal with this type of situation, please download our HCM technical sheets or contact us for all the information you need on what our products can do for you!