CPI TECHNOLOGIES
Compartmentalisation and fire protection.
The team at CPI Technologies boasts 35 years' experience in the construction sector and in particular in fire protection.
Backed up by this experience and omnipresent dynamism, CPI offers you the best solutions for passive fire protection and compartmentalisation in your installations.
At CPI, they take things seriously, as their quality and security labels attest:
ISO 9001 certification by Vincotte

ISIB installation certification. (This is certification that the door fitters work in line with the instructions and authorizations laid down by law and have the capabilities needed to install fire-resistant doors.)
CPI has deliberately opted to join forces with reliable and competent partners. And so, right from the company's foundation, a partnership based on trust was established with Heinen.
A second partnership further reinforced the expertise of CPI Technologies in the field of fire resistance. This is a collaboration with the company Promat, which supplies a range of high-performance products tested in the most extreme conditions. 
As regards its references, CPI can boast working regularly on the security of groups such as the SNCB (Belgian railways), Aldi, Delhaize, Ikea, Intradel, ULg, Electrabel, etc.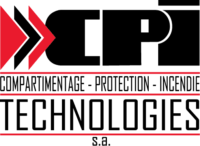 contact information
Rue de l'Avenir 16
4890 Thimister
BELGIUM